COVID-19 Update: During this time of social distancing, we are offering weekly ideas of ways to spend quality time in nature, as well as indoors.
These activities will hopefully strengthen the family bond while remedying the cabin fever we're all feeling.
Welcome to the Family Life page! We strive to offer multiple events and activities for our church family throughout the year, including the annual hayride, swim and gym, game nights, and more. We also present seminars and talks on topics such as child guidance and grandparenting.
Camping & Blanket Forts
Spend some quality time outside this week. In your yard, set up a tent, create a tepee out of long branches and blankets, or make a lean-to with branches and a tarp/blanket/sheet. Set out a blanket and have a picnic with your favorite foods. Or build a campfire and roast s'mores, hot dogs, or veggies in foil packets. Tell a story with your family by having each person add a sentence to a prompter phrase, such as, "Once upon a time, there was a…." If the weather isn't cooperating, build a blanket fort inside, have an indoor picnic, read a book out loud, or do the shared story. Your story could even be about meeting Jesus back in Bible times or in Heaven, or what you would do on the New Earth!
Rain
Here are a few things you can do when it's raining outside:
Create Rain Art: Color on heavy cardstock with washable markers, then set out your pictures in the rain and watch the colors swirl and blend. If it doesn't happen to be raining, you can also use a spray bottle or small watering can make the same effect.
Make Rain Music: Set out bowls/pots/pans/buckets/bottles, tin foil, even a toy xylophone and listen to the music created by the raindrops.
Play "Pooh Sticks": During or after the rain, stand on the upstream side of a bridge and drop sticks into the stream below. Move to the other side of the bridge to see which stick appears first.
Remember to look for the rainbow after the rain!
Birds & Prayer Box
Spring is a great time to notice the beautiful birds in our area. Spend some time outside both watching for and listening to the birds. Try to identify as many birds as possible both by sight and by sound. There are a number of apps you can use to help with identification. If you're feeling especially creative, sketch some of the birds you see while you ponder why God would create so many different varieties of birds.
While you're inside, why not create a beautiful prayer box? It seems there are more and more people and things to pray for nowadays – it's hard to remember them all. Find a container you'd like to use and paint it, decorate it, make it somehow special. Cut paper into smaller sheets for each prayer request (even the papers can be decorated). Each day, pray over the items in the box.
Leaves
Now that leaves are starting to emerge, take some time to look at all the different varieties. See how many different ones you can find. Compare and contrast them. Are they smooth? Are they wrinkly? Are they fuzzy? Are they sparkly? If possible, take pictures of all the leaves and look at them on a computer to see them more closely. Or take a magnifying glass out with you.
Since it seems we are going to be spending more time locked down than we originally thought, why not create a time capsule to document what you're doing during this time. You could write a book about your experiences. You could keep a photo journal of all you are doing. Each family member could put a handful of items that are meaningful to them and this time in a container and open it a few years from now. And don't forget to look for the God moments in all of this, too!
Rock Painting
When you get outside this week, take some time to do a fun game – either by yourself or with your family. Choose a letter of the alphabet and find as many things that start with that letter as you can. Keep choosing different letters to keep the fun going! You can easily play this game inside as well.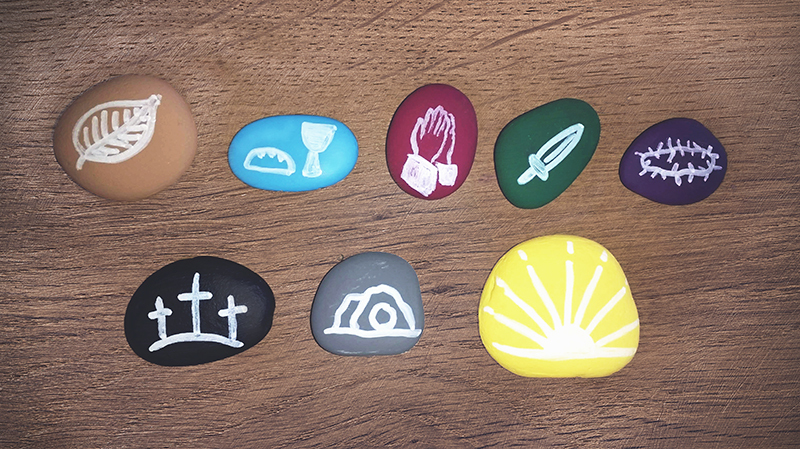 While you're out and about you can also collect eight medium-sized, smooth stones. These stones can be painted to become story stones about the events leading up to Jesus' death and resurrection. Have children help you choose stones and paint each one a different color. Adults or older children can draw with a paint pen or sharpie the symbols of the various events of the week: palm leaf, bread and cup, praying hands, sword, a crown of thorns, three crosses, tomb, and sunburst. Then on Sunday, share the story using the stones.