The Story of Martin Luther and the New Reformation
"You Impious and Sensate Papist!"
Speaker
Dwight K. Nelson
Since 1983, Dwight Nelson has served as lead pastor of the Pioneer Memorial Church on the campus of Andrews University. He preaches on the "New Perceptions" telecast, teaches at the theological seminary and has written some books, including The Chosen. He and his wife, Karen, are blessed with two married children and 2 granddaughters.
Offering
Saturday, October 21, 2017
Program:
Everlasting God • In Christ Alone • Your Name
How to Share Your Faith and Give Bible Studies • Rodlie Ortiz
Put on Gladness, O My Soul • Johannes Brahms
A Mighty Fortress Is Our God • Duane Funderburk
"'You Impious and Sensate Papist!': The Story of Martin Luther and the New Reformation" • Dwight K. Nelson
Onward Christian Soldiers • 612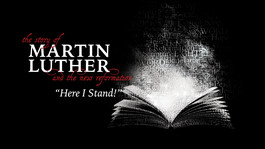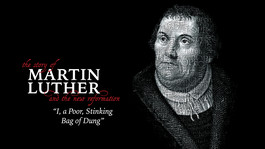 "The Story of Martin Luther and the New Reformation:
'You Impious and Sensate Papist!'"
The Reformer

December 10, 1520
Luther Against the Execrable Bull of Antichrist: "Peter said that you should give a reason for the faith that is in you, but this bull condemns me from its own word without any proof from Scripture, whereas I back up all my assertions from the Bible. I ask thee, ignorant Antichrist, dost thou think that with thy naked words thou canst prevail against the armor of Scripture?... O meticulous ignorance!... you impious and insensate [comatose] papist.... [A]s they excommunicated me... so I excommunicate them in the name of the sacred truth of God. Christ will judge whose excommunication will stand. Amen." (Roland Bainton Here I Stand: A Life of Luther 125-126)
Luther: "Since they have burned my books, I burn theirs. The canon law was included because it makes the pope a god on earth. So far I have merely fooled with this business of the pope. All my articles condemned by Antichrist are Christian. Seldom has the pope overcome anyone with Scripture and with reason." (Bainton 128)
James Kittelson: "This focus on Christ could give even the most tormented soul absolute assurance. Where was the release from accusations of conscience or God's law? 'Nowhere save from Christ and in Christ. For if some complaint should be registered against a heart that believes in Christ, and testify against it concerning some evil deed, then the heart turns itself away, and turns to Christ, and says, "But he made satisfaction. He is the righteous one, and this is my defense. He died for me, he made his righteousness mine and made my sin his own; and if he made my sin his own, then I do not have it, and I am free."'" (Luther the Reformer: The Story of the Man and His Career 95)
The Reformation

The Five Sola's: Solus Christus—"Christ alone"  Sola fide­­—"faith alone"  Sola gratia—"grace alone" Sola scriptura—"Scripture alone" and Soli Deo gloria—"glory of God alone"
L. E. Froom: "Luther's break with Rome was a spectacle equaling, if not surpassing, in moral sublimity any other scene unfolded in the Christian Era.... [I]t was evident that nothing in this old world is more powerful than a prophetic truth whose time has come. It has impelling force and power within it. Thus it was with the Reformation, which was really born of a twofold discovery—first, the rediscovery of and His salvation; and second, the discovery of the identity of and his subversions." (Prophetic Faith of Our Fathers 2:243)
Martin Luther's understanding of Bible prophecy:

1 John 2:18, 22—The Antichrist (GK: " Christ") is coming.
2 Thessalonians 2:3, 4—The man of lawlessness/the man of sin will assert himself to be on earth.
Daniel 7:25—The "little horn" power of Daniel 7 will speak against the , persecute the saints and change times and laws.
Revelation 13:3ff—Luther identified the beast of Revelation 13, the fallen woman in Revelation 17 and Babylon in Revelation 18 with the .
Not only Martin Luther, but subsequently William Tyndale, John Calvin, John Knox, John Wesley and a host of other lesser known Reformers saw in Rome the coming of the as prophesied in Scripture. (L. E. Froom 2:528-531)

"From Conflict to Communion: Lutheran-Catholic Common Commemoration of the Reformation    in 2017":

"1. In 2017, Lutheran and Catholic Christians will commemorate the 500th anniversary of the beginning of the Reformation. Lutherans and Catholics today enjoy a growth in mutual understanding, cooperation, and respect. They have come to acknowledge that unites than divides them: above all, common faith in the Triune God and the revelation in Jesus Christ, as well as recognition of the basic truths of the doctrine of justification." (http://www.vatican.va/roman_curia/pontifical_councils/chrstuni/lutheran-...)
"16. What happened in the past cannot be changed, but what is remembered of the past and how it is remembered can, with the passage of time, indeed change. Remembrance makes the past present. While the past itself is unalterable, the presence of the past in the present is alterable. In view of 2017, the point is not to tell a different history, but to tell that history ."

John 17:17—"Sanctify them by Your truth; Your word is truth."
Pew Research Center:

About half of U.S. Protestants (%) say both good deeds and faith in God are needed to get into heaven, a historically Catholic position. The other half (%) say that faith alone is needed to attain salvation.
U.S. Protestants also are split on another issue that played a key role in the Reformation: (%) say the Bible provides all the religious guidance Christians need, a traditionally Protestant belief known as sola scriptura. But (%) say Christians should look for guidance from church teachings and traditions as well as from the Bible, the position held by the Catholic Church.
Just (%) of all U.S. Protestants affirm both sola fide and sola scriptura. (http://www.pewforum.org/2017/08/31/after-500-years-reformation-era-divis...)

 Ellen White: "The Roman Church now presents a fair front to the world, covering with apologies her record of horrible cruelties. She has clothed herself in Christlike garments; but she is . Every principle of the papacy that existed in past ages exists today. The doctrines devised in the darkest ages are still held. Let none deceive themselves. The papacy that Protestants are now so ready to honor is the same that ruled the world in the days of the Reformation, when men of God stood up, at the peril of their lives, to expose her iniquity.... There has been a change; but the change is not in the papacy. Catholicism indeed resembles much of the Protestantism that now exists, because Protestantism has so greatly degenerated since the days of the Reformers." (The Great Controversy 571)
"The Reformation did not, as many suppose, end with Luther. It is to be continued to the close of this world's history." (148)

"There was a present truth in the days of Luther—a truth at that time of special importance; there is a present truth for the church today." (143)
"Those who present the truth for this time should not expect to be received with greater favor than were earlier reformers. The great controversy between truth and error, between Christ and Satan, is to increase in intensity to the close of this world's history." (144)
Anybody left after Martin to take a stand one more time?
There is no fellowship dinner this Sabbath, September 30, or on Sabbath, October 7.
Hiram Edson: The Man and the Myth
Dr. Brian Strayer, Emeritus Professor of History at Andrews University, will take a look at the life of the Adventist pioneer, Hiram Edson, who introduced the "Sanctuary Doctrine" to Adventists. The presentation will provide a synopsis of Dr. Strayer's new book by the same title as the talk. All are invited to attend this event on Sabbath, September 30, at 3:30 PM in Garber Auditorium, Chan Shun Hall, Campus.
Fall Grow Groups are beginning, and we need you! Join online at pmchurch.org/grow and enjoy meeting with others who share your interests. (There will not be a printed brochure this fall.)
Alumni Homecoming Weekend
Alumni Homecoming Weekend is happening this week!  Highlights of the weekend include the Golf Tournament (players still welcome!), the Classic Car Show (in a more convenient location at the HPAC parking lot this year), and the Homecoming Parade.   Andy's Eats, AU's fun new Food Truck, will be on site so you can enjoy a snack or a meal (no cash; card only).  After the International Flag Raising Ceremony Friday at 6:30 choose from a variety of Vespers programs.
Sabbath afternoon many departments and museums will be open. Then on Sunday come join the fun for the Bradley Family 5K/10K Harvest Run - a fun way to run or walk to support a healthy lifestyle. For more information and the full weekend schedule, visit alumni.andrews.edu/homecoming.
ASM Bulletin Announcement for September 30 and October 7
Come One, Come All--who are at least 55 years of age and desire to listen to an inspiring program and eat a delicious potluck on Sunday, October 8, at 1:00 PM at the Village Church Fellowship Hall. Dr. Brian Strayer will have a powerful presentation entitled "Romans were known for their Aqueducts." Come prepared to pay your dues, if you didn't already, and contribute to the donation jar so that we can have many more interesting programs in the future.
Pathfinder Fruit Fundraiser
The Evergreens Pathfinder Club will hold its annual fruit fundraiser where you'll have the opportunity to support our club by purchasing fresh fruits such as oranges, apples, pears, and other dried products. This year, the fundraiser will run from September 25th through November 10th. Stay tuned for details in the coming weeks! Thank you for supporting the PMC Evergreens!
Michigan Women's Ministries Upcoming Events
Michigan Women's Ministries is hosting two events in October. The first is our Mother/Daughter Weekend October 13-15 at Camp Au Sable in Grayling, Michigan. The guest speakers will be Nancy Hansen and her daughter, Adele. The second event is our One-Day Getaway on October 21. This year the Getaway will be held just up the road at The Mendel Center at Lake Michigan College in Benton Harbor! The guest speaker is Donna Willey. For more information about the events and speakers, as well as to register, visit michiganwm.com. We look forward to seeing you at one or both of these events!
Volunteers Mentor Help Needed
"Akram & Gladys Yaqub, a Husband Wife couple, have taken on the difficult role of Principal & Vice Principal, trying to turn things around at South Bend Junior Academy, 1910 Altgeld St, South Bend, IN 46614
They are looking for a volunteer Wood Worker for Fridays, 2-3 hours. Top notch Shop, all equipment like new, neat, and tidy. Just needs an able instructor!  They are also looking for a volunteer Auto Mechanic.
Recently purchased $6000 3D printer with a Laser Engraver in acquisition process.
"Please contact, Akram at 269-362-2357, If you wish to donate your time and expertise."
Thank you!
Pioneer Women's Ministries is hosting an "End of Time Life Kit" presentation by Pastor Celesta Babb. This timely presentation will be held on Sabbath (Saturday), October 7, 2023, at 4:00 PM,  in the PMC Commons. Check-in begins at 3:30 PM. We will start
promptly at 4:00 PM. What guidance does God give us about being mentally, emotionally and spiritually ready for the end of time?
During our afternoon sessions we will look at what it looks like to be ready for Jesus' second coming as well as how to process our emotions connected to living in the last days. Vegetarian, vegan, & gluten-free salad, soup, and bread will be served. Registration is important for planning the food. To register text the word "PREPARED" to 269-281-2345. Registration deadline: October 5, 2023. For more information contact yolande.robertson@pmchurch.org.
Wholistic Healing Conference at SDA Theological Seminary
The "Wholistic Healing: Challenges and Opportunities for the Church" conference addresses fundamental health and healing issues the church is facing today, like mental, emotional, social and family health, and much more. Therefore, while God is constantly working to heal people on the deepest level, His healing power calls the church to wholeness in our brokenness.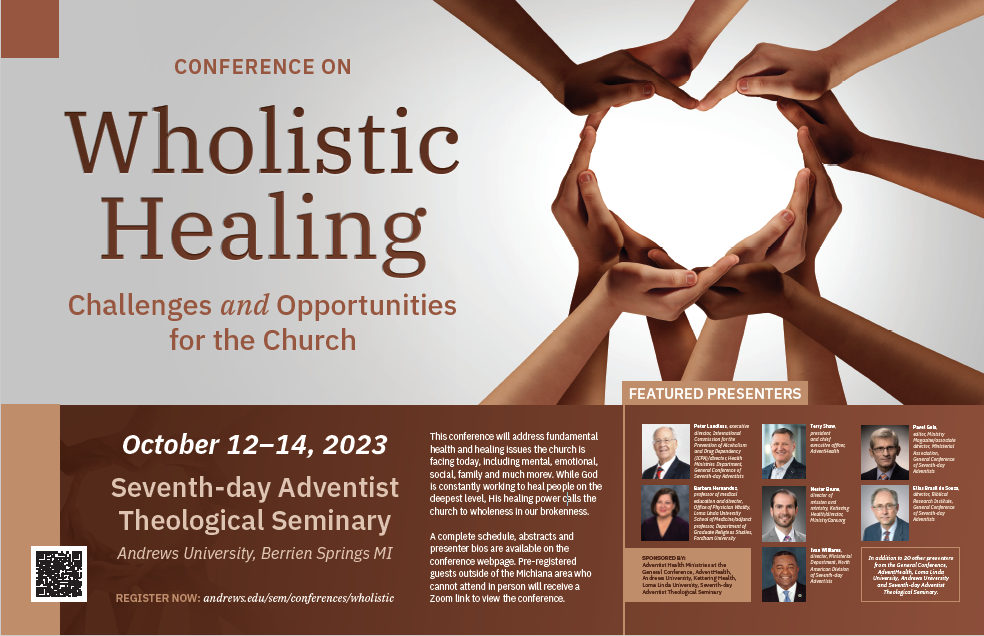 Pages