April 5, 2007
Millions of bees mysteriously dead!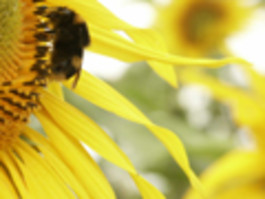 Millions of bees mysteriously dead!  Something off the front page of the National Enquirer?  Hardly.  It's a developing news story that spans the nation.  One Pennsylvania beekeeper lost 40 million bees this winter.  Fruit and vegetable growers from California (which produces 80% of the world's almond supply) to Pennsylvania (which grows the fourth largest apple harvest in the nation) are extremely worried, because the survival of their blossoming crops depends on the pollinating of honeybees.  No pollen transfer, no fruit—it's that simple.
What's killing entire hives of bees across America?  Scientists aren't sure.  Researchers at Penn State are hypothesizing potential microbes, checking for new pathogens, wondering about potent insecticides—while other scientists have discovered the very tiny varrora mite lodged to the bodies of dead bees and wonder if it is the culprit.  One thing's for certain—more than $15 billion of U.S. crops pollinated by honeybees is now at stake!
"Mysterious death that threatens an entire species"—that was the headline eons ago that plunged the Kingdom of Heaven into unprecedented crisis.  The human creation had joined the cosmic rebellion against the Throne.  Now both human and non-human creatures were being swept away by death at a rate of 100%.  There seemed no reversal for this endemic plague.
Until two thousand years ago on a Good Friday mountaintop, where the God of the universe submitted himself to the diabolical fury of his archenemy.  Bearing the infectious and mortal disease of this fallen creation in his own body and heart, the second Person of Heaven's Triune God succumbed in six hours to the crushing death of sin.  And it appeared that the mystery disease and its dark perpetrator had conquered this creation permanently.
Until that black Sunday morning three days later.  An explosion of light.  The roar of a subterranean quake.  And the clarion voice of a young being that towered beside that stone rolled away, as he shouted into the damp shadow of that hillside sepulcher:  "Son of God, come forth—Thy Father calls Thee."  More lightning.  Thunder.  And quaking.  And striding from the bowels of that earth comes the risen Christ who over the shattered tomb cries out, "I am the resurrection and the life."  A billion angels bow to welcome back their conquering King!
And two thousand years later we, too, gather to worship Him.  Not only today in celebration of His resurrection.  But on those "other days" of utter heartache and bitter tears when we gather to worship Him in this sacred place, as we bid farewell to yet another loved one death has claimed for itself.  It is on those days of numbing grief that our spirits crave even more keenly the shattering promise of His empty tomb:  "Because I live, you shall live also" (John 14:19).
And so may the voice of the risen Christ that we hear this day remain deep within us until that Day, when the mystery of death will be no more, and the blossoms of Paradise will flower forever.