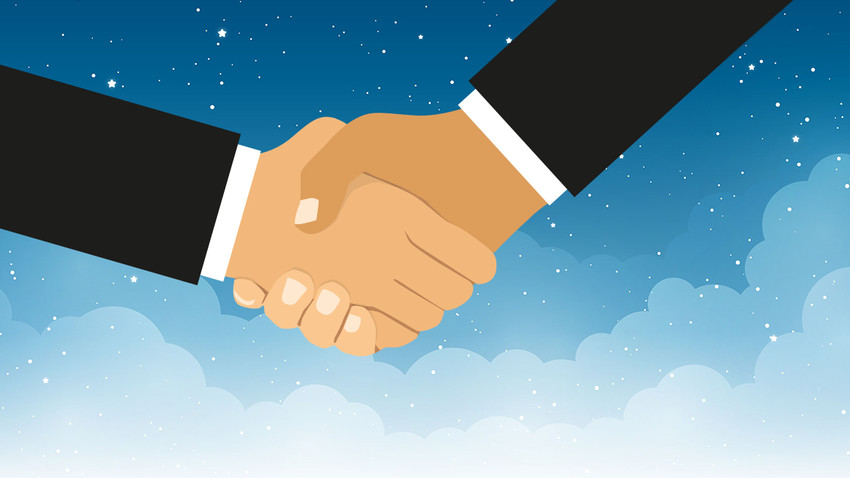 April 8, 2020
No Handshakes in Heaven?
Dr. Anthony Fauci, director of the NIH's National Institute of Allergies and Infectious Diseases, has become the media's go-to authority amid these dark days of the coronavirus pandemic. His quick mind and candid assessments of the disease's strength and spread have become a daily mainstay for Americans. In an interview yesterday with Wall Street Journal's podcast he offered this candid advice for Americans when the pandemic finally ends: "Speaking about the eventual return to normal life, Dr. Fauci said: 'When you gradually come back, you don't jump into it with both feet. You say what are the things you could still do and still approach normal. One of them is absolute compulsive hand washing. The other is you don't ever shake anybody's hands'" (www.newsweek.com/dr-fauci-americans-should-never-shake-hands-again-coronavirus-influenza-1496772).
Lots of handwashing but no more handshaking? Has it come to that?
"The history of the handshake dates back to the 5th century B.C. in Greece. It was a symbol of peace, showing that neither person was carrying a weapon. During the Roman era, the handshake was actually more of an arm grab. . . . Some say that the shaking gesture of the handshake started in Medieval Europe. Knights would shake the hand of others in an attempt to shake loose any hidden weapons." But how about today? 
"While handshaking is still the most ubiquitous greeting around the world, it may be losing ground in the US. The fist bump was, until recently, a gesture mostly used by athletes and young people. Now it's becoming more and more common among everyone, including older people. Even the President of the United States is a fan of the fist bump. According to one survey, forty-nine percent of Americans sometimes choose the fist bump over a traditional handshake greeting . . . [F]or many it's a pragmatic choice. Many survey participants said they preferred the fist bump because they were afraid of catching germs by shaking hands" (www.deepenglish.com/2014/07/handshake-history-listening-fluency-116).
There you go—good-bye handshakes, hello fist bumps.
A block from our home yesterday, I was outdoors chatting with a couple (maintaining our requisite social distancing, of course). "This no-handshake business must be really hard on you," they commented. Are you kidding! My pastoral instincts (within proper bounds) are to shake a hand, touch a shoulder as part of a personal connect, an I'm-glad-to-meet-you gesture of warmth. But with no more handshakes, probably no more fist bumps—how will a pastor survive!
Truth is this pandemic has pretty much rewritten a host of social proprieties. But we can't let the disease erase our commitment to the genuine, Christian community. Look at Jesus, the master of touch and champion of community. With His disciples "He took the Twelve aside" (Mark 10:32). With the young "He took the children in His arms, placed His hands on them and blessed them" (Mark 10:16). Miracle after miracle He touches the seeker. There was nothing suggestive about Jesus' touch and His quest for community. Over the creation of the human race "in the beginning," the pre-incarnate Christ pronounced our essential humanity, "It is not good for them to be alone" (see Genesis 2:18). We were made for community, and we will have to work hard at preserving it in our parish whatever the readjusted social norms become.
No handshakes in heaven? Who said so? "And what is the happiness of heaven but to see God? What greater joy could come to the sinner saved by the grace of Christ than to look on the face of God and know Him as Father" (Last Day Events 298). That won't be a handshake. That will be a hug only a Father could give!