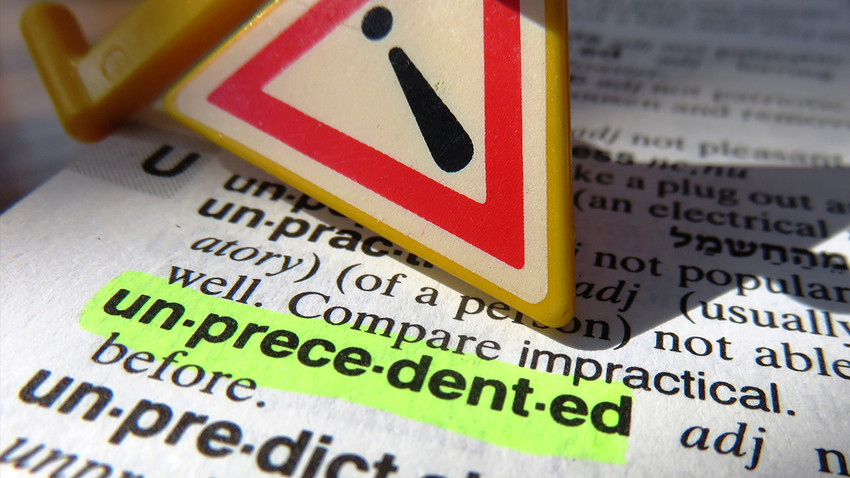 September 23, 2020
Unprecedented
I don't know about you, but lately, I've been noticing the repeated appearance of the simple word, "unprecedented"—defined as "never done or known before," i.e., unparalleled, unequaled, unmatched, unrivaled. And it seems to be on everybody's lips these days.
"Unprecedented." Here's a googled list of headlines in which the word appears: "Wildfires 2020: The California, Washington, Oregon fires are unprecedented" (Vox); "Covid-19 drives leaders to make unprecedented interventions but what next" (The Guardian); "Climate Change: 'Unprecedented' ice loss as Greenland breaks record" (BBC); "Belarus massive and unprecedented protests" (NPR); "Arkady Dvorkovich: 'It is clear that today the world is facing an unprecedented crisis'" (RealNoevremya); and one more from among dozens, this one the understatement of the day, "San Francisco prepares for unprecedented November election" (SFBay).
"Unprecedented"—what's up with this word's popularity? Just a news media fascination—you know, the flavor of the month kind? Or is it humankind's attempt to condense into a single word our angst over the stunning magnitude of upheaval and change scrolling across our 24/7 news feeds?
"Unprecedented." Turns out Holy Scripture resorts to it, too. Without even using the word, Daniel describes it: "At that time Michael, the great prince who protects your people, will arise. There will be a time of distress such as has not happened from the beginning of nations until then [unprecedented]" (Daniel 12:1). Unprecedented end times—unequaled by anything in history. Jesus Himself builds off of Daniel's endgame description: "'For then there will be great distress, unequaled [unprecedented] from the beginning of the world until now—and never to be equaled again'"—so unprecedented will be those times that Jesus goes on—"'If those days had not been cut short, no one would survive, but for the sake of the elect those days will be shortened'" (Matthew 24:21-22). Reads a bit like the googled list of headlines, doesn't it?
Ever get the idea God is trying to tell you something? Well if you haven't, this would a good time to get that idea. The escalating headlines with their litany of "unprecedented" events are hardly surprising to the student of God's Word. Daniel, Revelation, Jesus' mini-apocalypse (Matthew 24/Mark 13/Luke 21) clamor for our careful investigation. Why? So we can log on to one more depressing headline and burden our already anxious spirits? Not at all.
Jesus cuts to the point: "'I have told you now before it happens, so that when it does happen you will believe'" (John 14:29). Did you catch that? The point of prophecy, the point of Jesus' embedded predictions is to make believers out of us! The growing list of "unprecedented's" swirling around us these uncertain days is simply the Spirit's call to believe in Him who is the Lord of both history and prophecy (history in advance). "I am telling you all of this, so that when you suddenly realize you have entered a time of 'unprecedented' upheaval and change, you will not fear—you will instead believe in Me even more confidently!" 
In fact, that's exactly how Jesus put it at the end of His predictions: "'When these things begin to take place, stand up and lift up your heads, because your redemption is drawing near'" (Luke 21:28). There it is—the very best news of all—Jesus is coming soon! Unprecedented? Are you kidding? It will be the one headline with no precedent—before, after, or ever. "Even so, come, Lord Jesus!"