November 6, 2009
Amen to AMEN!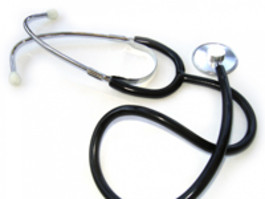 Amen to AMEN! Karen and I had the privilege of joining several hundred physicians and dentists and their families this past weekend in Gatlinburg, Tennessee. You should've heard their stories. Here they are—medical professionals in the thick of their careers across this nation—pursuing Christ in the marketplace of health care. Or, as dentist Dusong Kim described it, it was Christ in hot pursuit of him, as the Cessna twin engine he was piloting in the dark over an invisible patch of California below, dropped out of the night sky, its engines shut down. Clutching the stick in desperation, his mind racing, his wife and two small children strapped in beside and behind him, this dentist at the apex of a lucrative practice recounted those life-altering moments as he blindly crashed the craft into an orchard of almond trees. But out of that survival, his testimony described a redirected career, ignited by a new passion for God and his mission.
Or there was young orthopedic resident Joshua Drumm, who discovered that his lifelong ambition to become an orthopedic surgeon was tanking, simply because he refused to attend the residency application interview on Sabbath. The drama of his pleading before God, the subsequent rejections from elite orthopedic residencies across the nation once his Sabbath conviction became known, his refusal to compromise his commitment to his Creator, the Philadelphia hospital orthopedic chief's repeated attempts to persuade Joshua otherwise—his was a shining testimony of trust in God for all of us who listened, medical professionals or not. Today Dr. Kim and his family are missionaries in Bolivia. And Dr. Drumm and his wife are in a successful orthopedic residency in Philadephia. "Faith in practice"—the weekend theme for this retreat—is more than evident in the lives of these many medical professionals.
And on this campus of over 3500 young adults, how many of them, how many of you, will also hear the call of Christ to follow him as a medical missionary? Perhaps not to some foreign shore, but nevertheless you are being called to be a missionary for the kingdom right here at home in this nation. Massive student loans, society's drumbeat to reflect the affluence accorded your medical station in life—there will be myriad pressures to turn a practice into a lucrative career. But I was impressed with this hotel ballroom full of medical professionals who have chosen to reject societal norms and instead plunge into a self-sacrificing life of healing our broken world in the name of Jesus. You can be one of them one day.
Why the name AMEN? Because it stands for Adventist Medical Evangelists Network. Doctors, dentists, health care professionals as evangelists? Why the surprise? After all, God had only one Son—and he called him to be a medical evangelist. Could you be in better company?